Personally, things were really hard. Not just for myself but Megan also, we felt so conflicted. We knew what we were doing was right, we were changing the way dementia care was delivered. We were enabling people living with the condition to be themselves, enjoy the things they always have done, give families respite, promote peoples independence and wellbeing and bring meaning and purpose to their days with us. We however were emotionally exhausted.
Giving up very well paid yet soul destroying jobs for the greater good of others was what we had decided to do, we didn't want to get paid for being part of a system that neglects the duty of care to others. What we didn't know however, but quickly realised was that this was a whole new ball game we had picked ourselves for.
People didn't want to know, here we were two young girls imagining trips out, pub lunches, friendship and laughter wanting to showcase it to the world. Yet hardly anybody referred to us, even the people responsible for signposting people to services didn't. It soon became clear that the world outside the sector we'd ran from was actually pretty similar.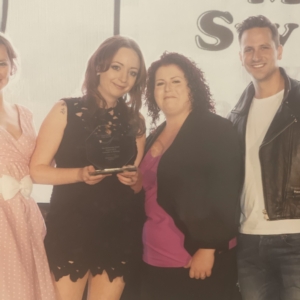 Every organisation is a business. An individual, a charity, other companies did not want to work together and help others to access our services. We weren't doing something amazing to them, we were simply a threat.
This world was Dog eat Dog.
We had no money to advertise, cried all the time, constantly adding up on a calculator to see if we could afford to keep a roof over our families heads. We sat at Megans dining room table staring at the phone waiting for it to ring.
We had 7 clients when things started changing, and it started changing because we had done what we always said we were going to- we put the individuals we care for first. The magical thing that happened was- Word of mouth.
The memory clinic got wind of what amazing things we were doing for families living with a dementia diagnosis, then social services, then other organisations and by the end of 2015 we had 20 clients and could see a light.
Then, something magical happened again. Someone we cared for had nominated us for the Dementia Carer Award for the prestigious Great British Care Awards, and we were finalists.
The nominator (we still don't know who it was) had written hat we had 'changed their families lives when they had lost hope.'
On the night, they called out our names as the Winners of the Dementia care award for the whole of Yorkshire and Humberside. We sat as we absorbed the environment around us, so many corporate companies with tables of 20 people and ten bottles of champagne while we sat on our own with our half lagers. How could this be?
As we stood and set off on our walk to the stage we caught each others eye and an overwhelming sense that someone, or something was saying 'keep going girls, you've got this.'
In loving memory of Gordon Wilson 1935-2017