My training as an Occupational Therapist had given me a deeper understanding about the importance of activities for our mental and physical wellbeing. I saw first hand the positive impact that day services had on individuals living with dementia when I was on my final year university placement within an older peoples community mental health team. The benefits for people engaging in meaningful activities and social interaction was obvious.
I think we are all very aware that when we engage in activities that are important to us, we feel a sense of happiness and wellbeing. Those feelings are just the same for us all no matter who we are.
So, it was important to us when setting up the service, along with finding out about each persons life history, to explore their past, present and future interests and hobbies. That way we able to tailor the day around each person we support at the group to ensure that they were participating in activities that were purposeful and meaningful to them.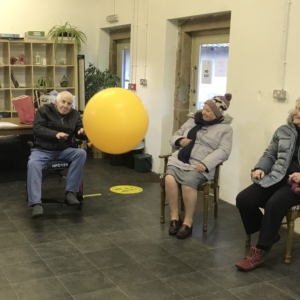 Activities are such an important part of our everyday lives, they make us who we are and shape our roles and routines.  The activities we provide at the day clubs fall into different categories including reminiscence, sensory, exercise/active, creative and mental stimulation. We always like to ensure that everyday we facilitate at least one  'active' activity such as balloon volleyball or seated hockey and at least one mental stimulation activity such as a crossword or general knowledge quiz.
It is always amazing to hear that our club members have gone home from the day club, stimulated, happy andso much more alert and engaged according to their carers. We want to make sure that everyone has a great day out, joining in activities and spending time with their friends
Megan x